There does not seem to be a sales intelligence tool out there that he has not seen or tested: Michael Levy is a voice of the SaaS scene, covering the latest and most innovative software for sales and marketing teams as well as providing his readership with detailled insight into other related topics such as LinkedIn, ABM, Intent data, Sales Enablement, Workflow tools, Martech or Data privacy and much more.
Keeping all that in mind, we are more than proud to present his Vendor Research Report profiling Echobot. Across 30 pages, Levy analyzes the Echobot tools CONNECT, TARGET, DATACARE and the API in detail.
In his review Levy first gives a detailed company overview including the key facts of Echobot's technology, the B2B segments as well as buyer personas that profit from using Echobot. He continues to examine the content model behind Echobot, investigating what kind of information the software's crawler gathers and where. Another big part of the review is the topic of GDPR: Echobot's core goal is to provide truly GDPR-compliant company and employee information for German-speaking markets and the United Kingdom, which is one of their USPs compared to other sales and marketing intelligence providers. Thus, Levy checked the GDPR aspect carefully.
When talking about the companies which Echobot covers for their customers, Levy analyzed exactly what extent of companies the software offers and which figures are included, e.g. company name, year founded, industry (UK SIC and German WZ codes), technologies in use, active social media accounts and much more. Additionally, he looked at the sales trigger function and how well company contacts are being displayed.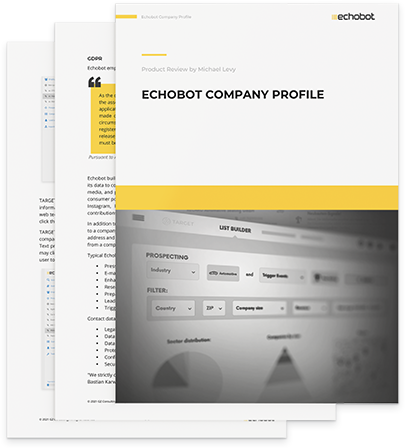 "UK vendors have been launching sales intelligence and B2B DaaS solutions for the European market over the past several years. It is a welcome sign that European vendors now have the confidence to compete in the UK market. One of these vendors is Germany-based Echobot, a promising new sales intelligence and B2B DaaS entrant to the UK market.

It is the leading sales and marketing intelligence service in the D-A-CH region and enters the UK with a broad set of sales and marketing services. Its multi-lingual capabilities and EU presence position it well to expand in Britain and on the continent." – Michael R. Levy
Echobot's functionality – another important, if not the most important aspect, especially for users and those interested in the tools – is also examined in a very detailed manner, including the CONNECT app. Furthermore, Levy discussed pricing and delivers exclusive screenshots from various features within the tools.
Before finishing his report with a summary, his external review notes Echobot's strengths and weaknesses which provides his readers with an indeed very interesting overview of what the tools are able to do. It is possible that this overview is decisive for some readers whether Echobot is their tool or not.
Summary
Of course, Michael R. Levy did not only look at the sunny side of our tools; his report provides a profound analysis of what Echobot does, but also what it does not do or does not cover (yet). It was not only helpful for us to see his external feedback, but of course, also of great value for those interested in Echobot and the whole topic of sales and marketing intelligence.
Thank you, Michael, for the excellent review and extensive report!
About Michael R. Levy

Michael R. Levy is the Principal of GZ Consulting, a market research and competitive intelligence consultancy which focuses on the information services industry. Services include market sizing, market research, competitive profiling, product strategy, licensing advice, competitor benchmarking, and sales enablement.
Michael has two decades of experience in the sales intelligence industry having worked for OneSource (Product Marketing Manager) and InfoGroup (Manager of Strategy and Competition) before launching GZ Consulting in 2012.
Michael is also the author of the just published 2017 Field Guide to Sales Intelligence Vendors. He also publishes a weekly Market Insights Newsletter which covers the Sales Intelligence, DaaS, Data Hygiene, and Predictive Analytics spaces.